A seasonal favorite is upon us as we near the Christmas season. That cherished time where parents encourage their kids to write their Letters to Santa in preparation for the Christmas season. We are encouraging this timeless tradition to become a favorite family project that parents can enjoy with their children. Rather than a solo project your kids write on their own in their room, we are encouraging you to make these letters to Santa a family project that you can do together.
With this in mind, we have prepared a special message from Santa Claus himself, with his head Elf, to remind children of the approaching deadline. In addition to this wonderful video you can watch together, we have created several additional holiday packages that can enhance your child's holiday experience. Your letters to Santa project can go beyond the writing to include some magical experiences they will remember forever. They may even become annual traditions in your home!
THE FIRST STEP :
To begin, we encourage you to purchase our Letters to Santa package by clicking the 'Buy Now' link below. You will be given a link and a password to watch our video on a private page with a simple message from Santa himself. You should have this video opened up to full screen ready for your child. You can then set aside a time to gather with your child and watch the Letters to Santa video we have created. Feel free to be creative with this as it is intended to inspire your child's imagination and creativity in putting together their own Letter to Santa. We would love to see them create their Christmas List but also share some of their favorite things. This might include their favorite Christmas songs, favorite Christmas cookies, favorite Christmas memories and even a drawing of their favorite toy. We have a sample you can download and print included in this package. Our hope is that this Letters to Santa project will inspire laughter, excitement and conversation about the things that matter most...the love you share together.
Once your child has finished their letter to Santa, and we receive it, we will send your child a Letter FROM Santa Claus. This beautifully prepared Santa Letter will be addressed to your child including their name. Your child will enjoy the experience of knowing their Letter to Santa was received along with an encouragement to be on the NICE LIST this Christmas season because Santa checks his list twice before Christmas Day.
The cost for this service is $12 and can be purchased by clicking on the 'Buy Now' button below. We have made this wonderful holiday project extremely easy to purchase. Our Letters to Santa project has no geographical limitations and is available for everyone who is interested in purchasing it. For those families with multiple children up to three, each Letter from Santa will be slightly different to accommodate your needs. Each purchase includes a Letter from Santa to one child.
THE NEXT STEP :
Now that your child has finished their Letter to Santa, the magic begins! In an effort to provide fantastic holiday memories for your family, we have crafted several affordable services that you can schedule for your child in response to their Letters to Santa. These services are intended to add to the excitement of the season for your child and inspire their imaginations as they move closer to Christmas. You can choose to enjoy one of these options or all of them depending on what you want your child's experience to be. Some of these services are location dependent so please read carefully.
ZOOM WITH SANTA :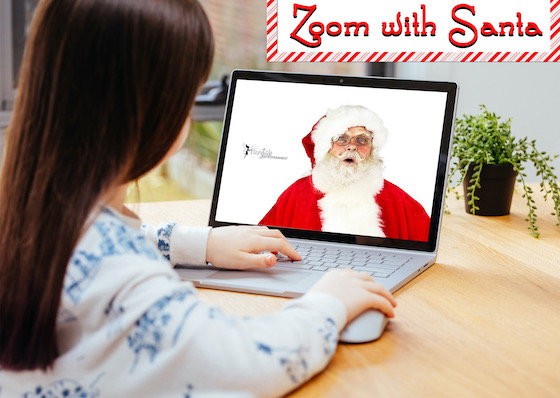 Looking for a brief, magical visit with Santa Claus for your kids? Our zoom with Santa offers your children a virtual experience to share what they want for Christmas and a few moments to ask Santa some questions. He may even have some important tips to stay on the nice list this year.
The cost for this 5 minute virtual Santa visit is only $50. If you have several children and you would like to have them enjoy their own zoom with Santa, we encourage you to purchase consecutive time slots so each child can enjoy personal time with Santa. This price is only available for the time blocks we have set aside.
If you prefer a custom date and time for your zoom with Santa, standard rates will apply. In order to provide this low cost zoom with Santa, we need to schedule a minimum number of visits. Please share this with your family and friends so we can provide this magical experience at an affordable price.
FAIRYTALE CHRISTMAS POP IN :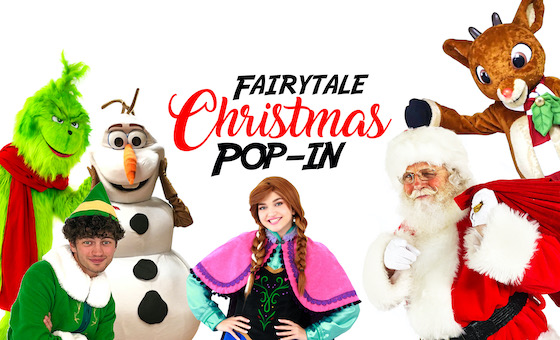 Elevate the magic this Christmas with a personal visit from six beloved holiday characters to your home in style. Whether you're planning to avoid the crowds and keep your family home this Christmas season, you can still create a festive experience for your children without the hassle. Our Christmas Character Pop In package is available to limited cities with limited spots available. We encourage you to schedule your visit soon. This special Christmas character package includes our Playful Grouch, Rudolph the Red Nosed Reindeer, Ollie the Snowman, Frozen Princess Ann, Buddy the Elf and Santa Claus himself! These classic Christmas characters for kids will deliver moments of laughter and memories your whole family will cherish.
The cost of this unique Fairytale Christmas Pop In visit is $599 and lasts 20 minutes long. This package is only available in Oakland and Macomb County, Michigan as well as the Dupage County, IL region. Our ability to provide this discounted package is dependent on a certain number of bookings so help us by passing this along to neighbors and friends. Each visit is limited to one family unit in order to ensure your children receive attention by each of our Christmas party characters. However, we encourage you to share this with your neighbors or homeowners association and we can discuss additional discounts or a private evening together in your neighborhood. Our Christmas Character Pop In will arrive at your home providing your family with a unique experience you'll be talking about for years to come.
PRIVATE FAMILY PHOTO VISIT WITH SANTA AND FRIENDS :
With so many Christmas events and activities being limited this season, we want to provide an alternative that offers your family a private photo opportunity with Santa and Mrs Claus as well as other favorites that can be available to you. These sessions will be limited and available on certain days and times. Watch for more information and call to learn more about these special holiday photo visit opportunities.
CHRISTMAS PARTY CHARACTERS :
Keep in mind our standard character visits with our amazing cast of party characters for kids is always available. In home character visits are available this Christmas for all your holiday events and activities. If you're looking for kids birthday party entertainment or Christmas party characters, give us a call and speak to our party planners today.